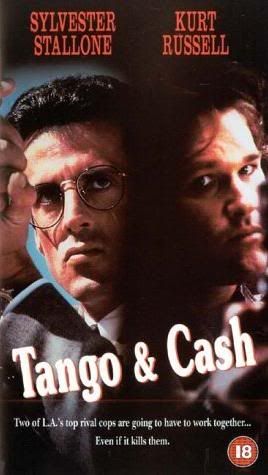 The buddy cop film reached glorious heights in the 1980s. This awesome decade for action movies saw stuff like
48 Hrs
and
Lethal Weapon
hit the big screen, movies which were true classics of the genre. On the lower end of the scale is this flick,
Tango & Cash
, starring two of the biggest '80s stars at the peak of their fame, Sylvester Stallone and Kurt Russell, and a whole bunch of other faces you might recognize.
Tango & Cash
might not be amongst the best action flicks of all time, but it's got enough so-bad-it's-good moments and '80s cheesiness that it works out pretty well.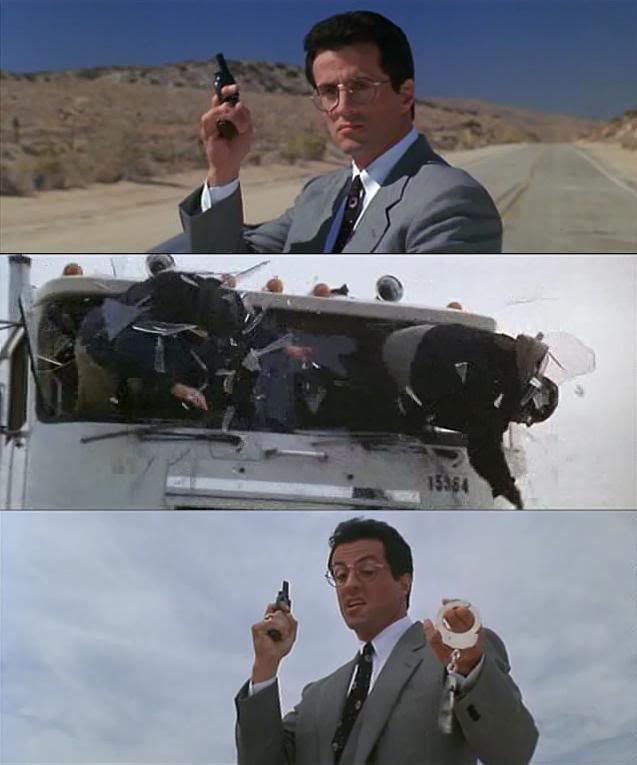 THAT just happened.
There must be a law against starting a Stallone movie in dull fashion. Remember
Cliffhanger,
where the dude's just chilling up on a rope hanging thousands of feet up in the air while flexing his muscles? That was a good opener.
Demolition Man
starts out with an apocalyptic Los Angeles in flames while Sly guns down criminals and does somersaults and flips in cargo pants. Another good one. Or maybe
Rambo III
, where the movie kicks off with our favorite Italian Stallion beating the crap out of some poor Thai dude with a stick. True to form,
Tango & Cash
has the impeccably dressed Detective Ray Tango in a Cadillac chasing down drug-dealers using a fuel truck to smuggle cocaine. Tango shows the audience how badass he truly is by playing chicken with the truck and forcing the drug runners to be ejected from the moving truck's windshield using just his rugged good lucks and a tiny revolver.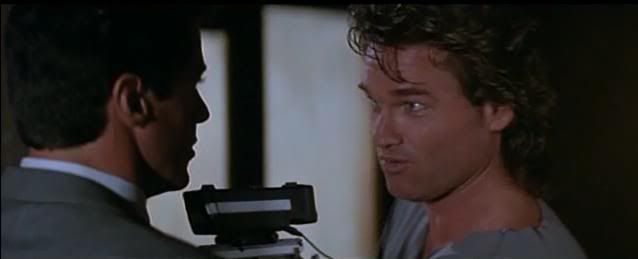 Mullet? Check. Enormous, over-compensating gun? Check.
While Tango is the rich, polished cop who's on the job for the thrills, Detective Cash (Kurt Russell) is just the opposite. He's the street smart average Joe. He dresses like a hobo, eats old pizza, and instead of using a pee-wee sized gun, he uses a revolver the size of a battleship cannon, with a huge laser pointer on top. Why? Because it's the 80s. That shit was cool back then. Cash and Tango are rivals, each trying to out do the other with bigger busts and more arrests. While their little contests is going on, the city's criminals are feeling the butthurt from losing all that coke and money. Drug boss Yves Perret (Jack Palance) is losing a good deal of coin every time the hot shot cops make a bust, so he comes up with a plan to frame them both for murder, and get rid of them once and for all.

Is it just me or are 80s movies kinda homo-erotic?
After investigating a lead at a warehouse, Tango and Cash fall into the trap placed by Perret and get framed for murdering some drug-dealing jerkoff. Some cops who've been bought off by Perret and the mob help to lock them both up, and after taking a plea bargain with the judge, they're sent to jail for a year or so. After the obligatory prison shower scene, and a prison riot or two, they both realize they won't last a year in the slammer since half the prisoners are in there because of their arrests. Cash gets a buddy on the inside to help them bust out, and along with Tango they start planning their revenge on the mob.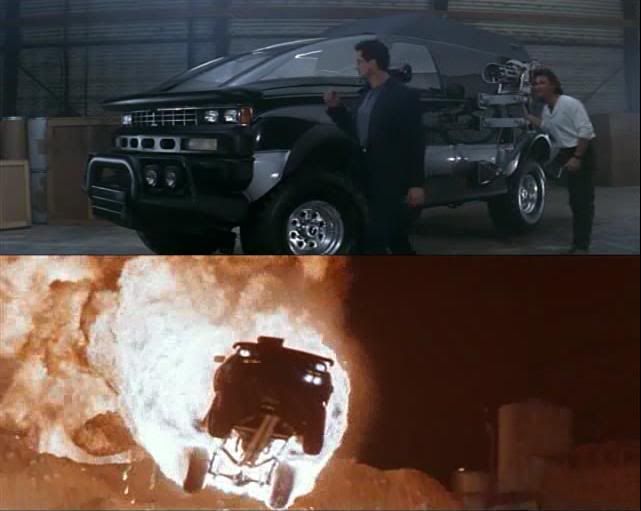 Out of nowhere: A SUPER MINIVAN FROM HELL!
Obviously the story isn't this movie's strongest point. I'm sure that back when
Tango & Cash
came out, it was the shit: big star power, a ridiculous techno soundtrack, and snappy one liners. Nowadays, it's pretty dated, which is strange since some movies even older than this one have aged much better. Maybe it's the number of plot holes which make no sense at all, which is pretty hilarious to be honest. For example, the end of the movie ends up looking like something out of a Twisted Metal or Vigilante 8 game, when Tango and Cash get a pimped out minivan with rocket launchers, machine guns, and they blow up the mob's hideout. The dialogue is actually the saving grace for this movie. It's SO bad, the lines SO cheesy and the one-liners SO ridiculous that it just becomes great fun to wonder just what the hell they'll say next.
Maybe Stallone and Russell were in this one for the paycheck, but it's undeniable that they were having a blast while doing it. There's nothing serious to be found in
Tango & Cash
. You might actually feel stupider after watching it, but you won't be able to say you didn't have a great time. This is a stupid, funny, brainless action movie. Grab a beer, some pizza and celebrate the fact that mullets have long gone out of style.
TL;DR - Stallone. Russell. One-liners. Terrible techno music. It's a cult classic! - 7/10