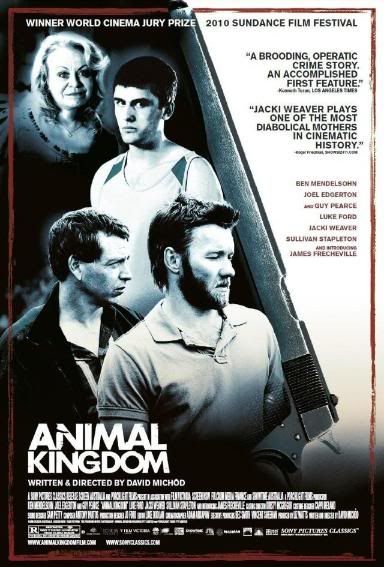 Depending on the kinds of movies you're into, you might have heard about Australian director David Michôd's crime/family drama before it got all the positive buzz during the current awards season. If so, then good for you. Go grab yourself a cookie and pat yourself on the back. You've confirmed your good taste in films. If you haven't heard a peep about the movie, then consider yourself lucky -
Animal Kingdom
is one of the best movies of 2010 and you'll be able to see it without any spoilers whatsoever.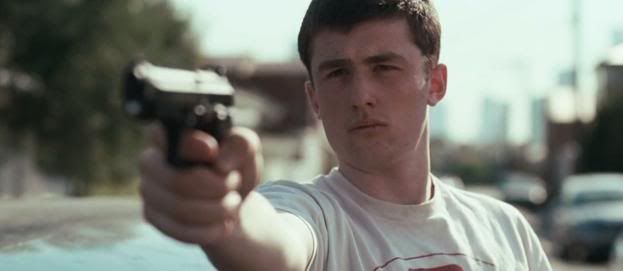 Being a teenager is hard. Having a family full of murderers and drug dealers doesn't help.
Based on true events,
Animal Kingdom
is centered on Joshua "J" Cody (newcomer James Frecheville), a teenager facing the challenge of growing up in one of the most notorious criminal families in Australia. The film opens with the death of his mother, as J explains to the paramedics that his mom took one heroin shot too many. Left with nowhere to go, J telephones his grandmother Janine "Smurf" Cody, who assures him everything will be alright, and invites him to stay at her home. Janine (Jackie Weaver) is matriarch of the Cody family, which includes her three sons: Darren (Luke Ford), who's about the same age as J, drug-dealing Craig (Sullivan Stapleton), and the oldest and most unstable of the bunch, Pope (Ben Mendelhson). Pope is a psychopath, pure and simple, wanted by the police on several charges. Sometimes, family just isn't all its cracked up to be.
Janine - part time grandma, full time murdering, conniving bitch.
J is initially welcomed by his uncles and grandmother, and does his best to settle in and become part of the family. He spends a lot of time with his girlfriend, and finds a role model of sorts to look up to in Baz Brown (Joel Edgerton), Pope's best friend and partner in crime. Baz is almost like another brother to the Cody boys, but has been looking forward to moving away from the criminal business and going clean by investing in stocks. He does his best to help the young J to adapt himself to the wild, difficult lifestyle that the Cody family goes through on a daily basis. Baz meets up with Pope at a supermarket, where he tells him of his plans, while a nervous Pope thinks his options over. The police are all over him, and it's clear that the pressure has been making an already unstable person even more dangerous. Baz makes his way to his car when he is ambushed and shot in cold blood by police. Pope sees the shooting and runs back home, knowing that the cops were looking for him in the first place.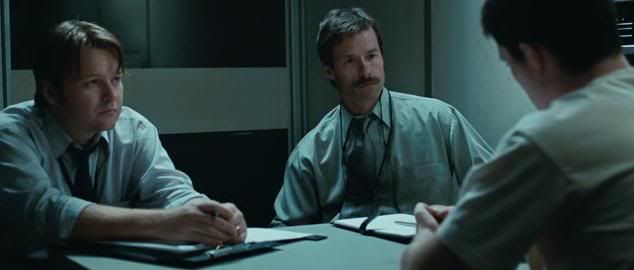 Guy Pearce is about the only actor in this flick most Americans will recognize.
The tension in the family finally explodes, as Pope and Darren come up with a plan to avenge Baz's death. They order J to steal a car and leave it a few blocks away, knowing that the police will respond once it's been called in. When two officers arrive on the scene, Pope and Darren come out from the shadows and murder them. Events spiral out of control, as police arrive to investigate the killings and start interrogations. Suspicions within the family start to simmer, as no one knows where J's allegiance lies, especially after Officer Leckie (Guy Pearce) takes a special interest in J's case and begins to genuinely fear for the kid's safety.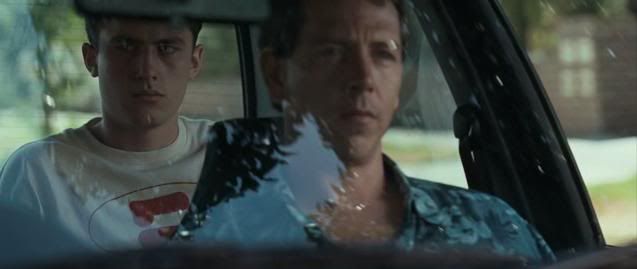 Pope enjoys long walks on the beach, the Beatles, and killing people.
The cast, which aside from Guy Pearce is probably unknown in the U.S., is mesmerizing. Jackie Weaver got an Oscar nomination for her role, and if you stick around to watch the entire movie, it'll be clear why. Her character is evil personified, and that's all I'll say without giving any spoilers. Everyone else does an outstanding job, including Frecheville who has to play the innocent, troubled J in a role that relies so much on his co-stars. The real stand out is the story, though. It's unpredictable, gritty, keeps the viewer guessing, and for my liking, one of the best of the year.
By the time the end credits roll,
Animal Kingdom
will have thrown several twists and some fantastic scenes at the screen. The pacing is kind of slower than most American movies, but there is a wicked intensity throughout the whole movie that never seems to let down. My main criticism would be the tendency to use music and slow motion too much during parts, which only serves to add melodrama when none is really needed. Some of the accents might be a bit hard to understand as well, but it'd be a tiny nitpick of an otherwise fantastic movie.
TL;DR - Aussie kid tries to survive his evil family. No kangaroos in this one. - 9/10