I am not Australian (too bad, I know). But if I were, here's a few things I would be worried about: cane toads overrunning my house, radiation from Japan's nuclear reactors, the Wallabies getting embarrassed at the Rugby World Cup, or getting killed by snakes, spiders, bogans, Jacki Weaver, sharks, etc. One thing I'd most likely not lose any sleep over would be the unlikely prospect of my country being invaded by a million-man army from a bunch of Asian countries in the middle of the night. But hey, we Americans didn't worry about the Russians invading back in the 80s, and look what happened in
Red Dawn
. If it wasn't for our patriotic Wolverines and heroes like Patrick Swayze and Charlie Sheen, we'd all be speaking Russian, comrades.
Yeah, let's go camping in "Hell." Sounds safe and all...
Ellie Linton (Caitlin Stasey) is a regular teenager living in a small town in Australia. The summer is coming to an end and along with her best friend Corrie (Rachel Hurd-Wood), she plans a weekend camping trip to a remote spot called "Hell" way out in the bush. After begging her parents to let them borrow the family Land Rover, they get a group of their friends together for the trip. Local Greek guy and general bad boy Homer (Deniz Akdeniz) is on for the ride, as is Corrie's boyfriend Kevin (Lincoln Lewis), super religious Robyn (Ashleigh Cummings), Ellie's crush and badass Asian guy Lee (Chris Pang), and the rich, out of town girl Fiona (Phoebe Tonkin). They pack up and drive out far away from the town of Wirrawee, where they spend a chill weekend just hanging out.
No radio, no power, no phones, no YouTube cat videos. The shit's really hit the fan now.
In the middle of the night, Ellie and the others wake up to the sound of hundreds of jet planes flying over their campsite headed towards the city, which they shrug off as just some military exercise. When they make their way back into town, they find that all of their parents are gone, and all of the town folk are nowhere to be found. Some bastard has even shot Ellies dog. The phones are dead, power is out, and no one knows what the hell is going on. They wait till dark and sneak up to the local fairgrounds, where they realize Australia has been invaded by a huge army from some unnamed Asian countries, apparently out to get some of dem precious Australian resources.
Parents are annoying anyway. Maybe concentration camps aren't so bad after all.
All of their families have been rounded up and are imprisoned by the soldiers. While making their way out of the fairground, they get ambushed by soldiers, and they fight back, Ellie killing them by blowing up a lawnmower. Together, the teenagers realize they have to fight back against the invasion. Yeah, it sounds a lot like the plot of
Red Dawn
, but the story develops in some different ways, and the kids have to grow up quickly and plan out their attacks carefully. Along the way they'll find out more about the invasion and go through some more bitching action scenes (the truck chase with dune buggies was pretty legit).
Everything in Australia is dangerous. Even lawnmowers. Especially lawnmowers.
First, let's get the gripes and bad stuff out of the way. Some of the dialogue is cheesy. I mean, extremely cheesy. So are some of the scenes in the beginning, which don't make much sense, like coming back home to a deserted town with no power or phone lines working, only to open your MacBook Pro that's apparently still on standby. Or some of Lee's lines which feel kind of forced. Or the scene where Ellie and Fiona are waiting to blow up a huge fuel truck and decide it's a good time to start some girly talk while enemy soldiers sneak up behind them.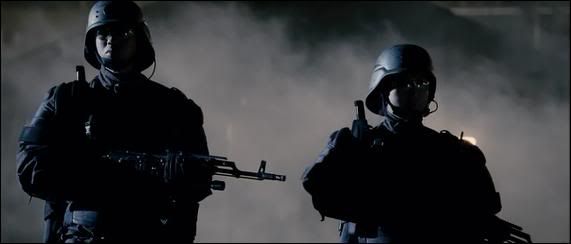 Goddamn Commies hating our freedoms.
The good stuff? Well, for a movie with a modest budget like this, the action sequences are pretty convincing and well-shot. There's none of that shitty Sci-Fi channel CGI with fake explosions and terrible slow motion. The action bits are fun to watch and pretty exciting. The cast is likable as well, which is always important when you're dealing with a nonsense plot like one of the most remote countries on Earth being invaded by a massive army and teenagers saving the day. There's a good amount of humor mixed into the movie, which I enjoyed a lot more than the attempts by the plot to create any sort of real drama. The Greek guy Homer is hilarious in most scenes, and the stoner dude near the end had me cracking up as well ("Woof! Woof! Dogs... how funny are they!") Homer and Ellie were the stand out characters for me, but to be fair everyone else held their own. Also, I might have a new crush on Caitlin Stasey. Maybe it's her dirt bike-riding, chainsaw-using, AK-47-shooting ways or maybe it's the accent, but I just have this unexplained longing now to move to Australia and find me a hot Aussie girl. She's fooooooiiiine.
You can liberate me anytime you want, Ellie.
It's too bad I've never read any of the books this movie is based on, so I can't comment on how faithful an adaptation it really is. In any case, it was an enjoyable flick - one of those silly but ultimately fun to watch movies.... like just about everything I watch and review on here. My main criteria for movie ratings is the fun factor. Did I enjoy the movie even if the story was shaky and I was intensely jealous of not having an old Land Rover like Ellie? Pretty much, yeah. I just wanted to vicariously defend Australia by blowing up some country-invading bastards. Since I'll never manage to get the Australian accent down without sounding like a retard, I guess this movie will have to do. If you can't be arsed to watch my favorite Aussie flick this year
Animal Kingdom
, or you want chicks, explosions, and laughs instead of bleak, family crime drama, watch this instead.
TL;DR - Australia does Red Dawn but with less Charlie Sheen and more hot girls with guns - 7.5/10