Chances are you've heard of a guy named Ridley Scott. The director behind classics like
Alien
,
Gladiator
, and
Blade Runner
. It's likely you don't hear much about his younger brother Tony Scott, who's got a respectable amount of movies under his belt, even though he mostly specializes in big budget action movies and lighter fare compared to his big bro. All is good though, since it's a well known fact that once you've seen a Tony Scott movie, you'll be able to identify any of his other movies without going on Wikipedia and cheating. You'll be a Trivial Pursuit champ. Just remember: loud, fast, action and pace. That's what the guy goes for, and what he usually ends up with.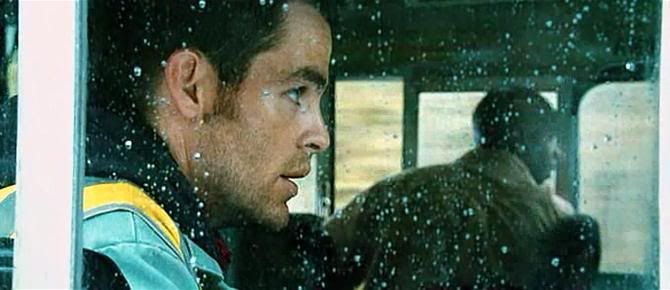 Captain Kirk and Detective Alonzo Harris... I mean, Chris Pine and Denzel trying to avert disaster.
What could possibly be louder and faster than a big ass train going 70 miles per hour with no one controlling it? Maybe Oprah Winfrey, but she's put on weight lately.
Unbreakable
begins with a fumbling fat guy working at a rail yard, who in his attempt to be as lazy and fat as possible, does a crap job of moving a train when ordered to. He neglects to fix the disabled air brakes on the train, then gets out of a moving train (with throttle set to 100%) to change a railway switch, and when the train starts to leave him behind, runs after it and falls flat on his face. Train #777 (the big, red shiny one from the trailer... you can't miss it) is now out of control, loaded with thousands of tons of toxic chemicals, and headed for a collision course with Stanton, Pennsylvania. Thanks a lot, fat guy.
Is it bad that I found myself cheering for the train to smash as much stuff as possible?
While the railway company attempts to stop the runaway train (and fails in spectacular fashion), we meet two other workers starting their shifts at another yard. Will Colson (Chris Pine) is a rookie, and is assigned to work with 28-year veteran Frank Barnes (Denzel Washington). Their routine task for the day is to move a few wagons of cargo to a nearby factory. They are soon contacted by the local yardmaster, Connie (Rosario Dawson) who is by now supervising the efforts to rein in the unstoppable red machine of death and destruction known as train #777. Will and Frank's train and 777 are set to collide head on, and they must find a way to avoid dying a grisly death and ending up on the morning news. Oh yeah, almost forgot. Will and Frank will also end up having to try and stop 777 before it and its toxic cargo wreck the shit out of Stanton. Good times ensue, of course.
Rosario Dawson didn't even have a bikini scene. Tony Scott, please... Step. Up. Your. Game.
Chris Pine does a stand up job as Will, though it's not exactly a demanding role, while Denzel seems to just cruise around the scenes. The guy's got so much charm that he could be reading his lines on the toilet and he'd make a convincing train conductor. It's just difficult to have a bad movie with Denzel in it. The script is neat and basically confines itself to trying to up the tension as far as it will go, and it's the correct choice for this sort of picture. It's a race against time, and a theme that fits Scott's directing style well. My main gripe with the movie is the abuse of the quick cuts and flashing scenes throughout the movie, something Scott is damn near infamous for. Some people love it, some hate it. I'm one of the latter. It's distracting and adds little to the scenes besides pissing me off. Besides that,
Unstoppable
does its job remarkably well: keep me entertained for its running time. What more can you ask from a popcorn flick? You can't fault a movie that knows exactly what it sets out to do, and then does it with no frills.
777 kicking ass and taking names.
Tony Scott has made his share of crappy movies, but thankfully
Unstoppable
manages to rise above the level of mediocre and is a good, exciting time on the screen. If there is one thing Scott is good at, is building excitement and keeping a breathless pace. There's no Oscar caliber acting, no fantastic script anywhere to be found, but there is heaps of adrenaline and a fun ride. A popcorn movie to the max.
TL;DR - Denzel and Captain Kirk do their best to try and prove the film's title wrong - 7.5/10