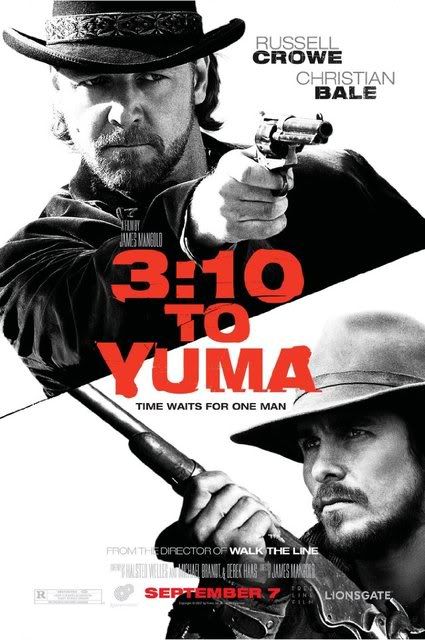 Westerns don't really get much love these days, which is sad considering that it's one of the classic movie genres and for decades a reliable supplier of much on-screen badassery and general mayhem. It's understandable in a way, since the typical Western lends itself well to slower pacing and methodical storytelling. Also, after watching Clint Eastwood's
Unforgiven
, you'd think there wasn't any reason to make another western again. Truth is, the last decade has seen a bit of a comeback for this type of movie, mostly as remakes. 2010 had the Coen brothers try their hand at a remake of sorts with
True Grit
, and back in 2007 we were treated to a good, old fashioned Western with
3:10 to Yuma
(remake of a 1957 flick), which features, like any movie set in the Old West ought to, plenty of fightin', murderin', thievin', and drinkin'.
I bet y'all didn't know Batman could build time machines...
Dan Evans (Christian Bale/Bruce Wayne) is a poor son of a bitch. He lost a leg in the Civil War while fighting for the Union. He lives with his wife and two sons on a modest farm in Arizona, has plenty of unpaid debts, his younger son is sick, and his oldest kid and wife don't really think much of him. The film opens with some local hoodlums, working for a wealthy landowner to who Dan owes money, burning down the family's barn, destroying most of the feed for the family's cattle, and condemning them to starvation. The next day Evans takes his boys with him to try and round up their cows, when they accidentally come across a bloody robbery on a stagecoach by the notorious Ben Wade (Russell Crowe).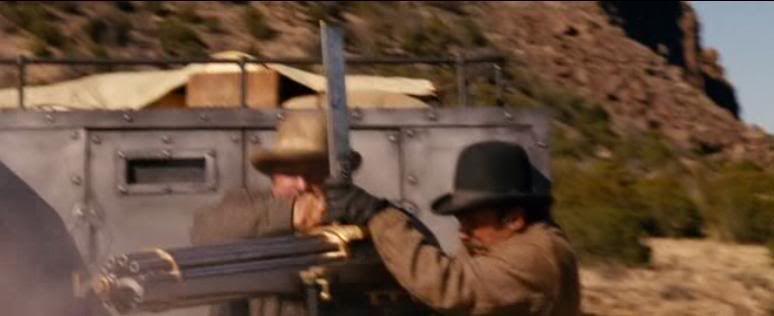 A Gatling gun in the first ten minutes. Always a great sign.
Wade and his ruthless, deranged right hand man Charlie Prince (Ben Foster) have just knocked over an armored stagecoach belonging to a railroad company, and defended by Pinkerton guards. Among them is the veteran Byron McElroy (Peter Fonda), who has been chasing Ben Wade and his boys for quite a while. As they stumble upon the scene of the robbery, Wade's gang notices Evans and his boys on the ridge, and inform them that they best be on their way and forget what they saw, or else.
In the nearby town of Bisby, and while the rest of his gang is away, Wade is captured by the local sheriff. Haasty arrangements are made to make sure that Wade is sent off to jail at once, where he'll surely be executed. The only problem is that Wade's gang is due back in town any minute, and they sure as hell won't be too happy to see their boss in shackles. Another problem? The sheriff doesn't have enough men to safely transport Wade. Evans steps up and offers his help, in exchange for $200 in order to help pay his debts. Evans leaves his boys at home, telling them to care for the farm and their mother. The terms are agreed and the crew sets out to make sure they get Wade on the titular 3:10 train to Yuma at all costs.
Charlie (Ben Foster) is a psychopath. The weird ginger beard gives him away.
In no time at all, the rest of the gang, now led by Charlie, realize Wade has been captured and immediately start chasing the group. With only a few trained shooters, a wounded Pinkerton, and a local veterinarian (Alan Tudyk, of
Firefly
and
Serenity
fame), Evans and his group have incredibly hard odds ahead of them. To make things worse, Evans' oldest son William tags along despite his father's orders, and they've all got no choice but to continue. A race to the finish ensues, with Wade's crew of blooded killers hot on their heels and plenty of hurdles ahead of them, as they face tough terrain and Indian ambushes.
Every Western needs a bar scene were ethanol is ingested by the gallon.
The first time I saw
3:10
was a great experience. I hadn't seen such an enjoyable Western since
Unforgiven
, and this flick is all that a modern take on this classic genre should be. It pulls no punches with its violent content and the lifestyle it depicts. There's no glamor or finesse about the way these bastards conduct their business. The acting is great on all parts, with a strong Bale performance and the dependable Crowe putting his own trademark on his role. The standouts were without a doubt Ben Foster as the batshit insane Charlie Prince, who is every bit a murderous psychopath as you'd expect from the guy, and Peter Fonda as McElroy, the experienced old gun who's done it all and seen it all. What else is there to say about the movie that wouldn't be better explained by watching it? The scenery is fantastic, the music fitting and the story holds up well enough to keep the running time flashing by.
3:10 to Yuma
is a rare treat. It's a good modern Western, of which there are few, and even as a pure action movie it holds up remarkably well. One of Bale's best roles, with compelling action and a thrilling finale. Even the opening with its fast paced stagecoach hold up is great stuff. If you haven't seen
3:10
, you're missing out on one hell of a movie. Watch it, and you won't regret it. If you're in the mood for the genre, or you have an unexplained Christian Bale obsession like my sister, you owe it to yourself.
TL;DR - Bale. Crowe. Fonda. Foster. Six shooters. Chases. Shootouts. The Old West. What the hell more could you ask for? - 9/10