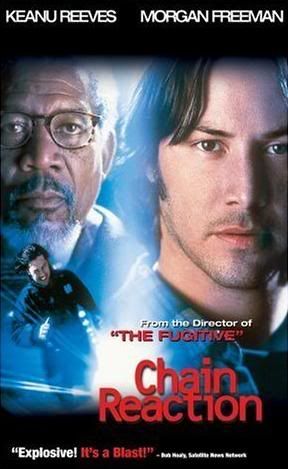 A word of warning to you, the readers: if you hate Keanu Reeves with every single fiber of your body and a passion that burns brighter than a thousand red giant stars, avoid this movie like you'd avoid Bubba in the jail showers. This isn't just a Keanu Reeves movie. This is the Keanu-est movie ever made. You might be thinking, " but, Guy Movie Blogger, surely you jest!" But sadly, no. He displays the same constipated look in every scene. He delivers every line with his world famous expressionless, monotone voice. Best of all, he looks bored to death regardless of the situation. A friend gets shot? Poker face. Car gets stolen? Poker face. His nipples catch fire? Poker face.
Even a shit-tastic movie can be slightly improved by Rachel Weisz.
As is typical in most 90s action movies masquerading as thrillers,
Chain Reaction
tries to pretend it's a smart movie and deals with government conspiracies and throws some science mumbo jumbo about cold fusion at you. Eddie Kasalivich (Keanu Reeves) is a machinist at the University of Chicago, working alongside physicist and obvious love interest Lily Sinclair (Rachel Weisz) as part of a team trying to create bubble fusion as a means to provide for a plentiful and cheap supply of clean energy. Leading the project is Paul Shannon (God... err, Morgan Freeman) who seems to be a big wig of some sort and has all the hook ups with the government for funding the experiments. Staying up late to work, Eddie discovers a breakthrough for the experimental machine, and with Eddie's machine parts, the next day the team celebrates their first stable bubble fusion reaction.
The team breaks out the Dom Perignon and get smashed drunk to enjoy their success. There is however, something rotten in the state of Denmark, as they say.The party ends and, Eddie, being the gentleman that he is, walks the wasted Lily home after her piece of crap Volvo refuses to start. After taking her drunk ass home, he heads back to the lab to get his motorcycle. Arriving at the compound, Eddie investigates the alarms going off inside, and finds his mentor Dr. Alistair dead and another researcher, Dr. Chen (an Asian guy, in case you were wondering) missing. Even worse, the fusion reactor set to explode in a matter of minutes. Eddie makes a run for it and hops on his bike, speeding away from the lab until the reactor explodes in a huge atomic blast,
which he then outruns on his motorcycle.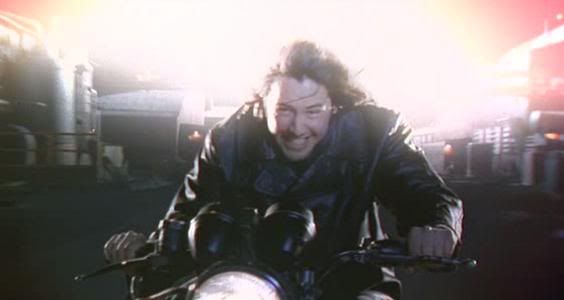 Keanu Reeves outrunning a nuclear explosion while constipated. How's that for multitasking?
After a few square blocks of prime Chicago real estate are reduced to rubble, the FBI show up to investigate, and the first to be questioned is poor Eddie. Leading the investigation is Agent Ford (Fred Ward) and his fat assistant who I will not bother to name, seeing as all he does in the movie is be fat and nod or agree with whatever Agent Ford says. Eddie is released and meets up with Lily, where they soon realize that someone is framing them for the explosion and murder of Dr. Alistair. Money and messages to China are planted at their places, and they're forced to reach out to the program director Paul Shannon for help. Shannon urges them to surrender, but they refuse and are soon on the run, avoiding the FBI and trying to clear their names at the same time. Shannon seems to be involved in shady stuff, and it's ultimately up to Eddie and Lily to find out who was behind the attack and how they can be stopped.
Fred Ward trying his best to be Tommy Lee Jones. Note the fat man in the background.
The protagonist has been framed? One of his closest friends murdered? An ally may not be what he seems? A tough cop on his trail? Hmmm... that sounds eerily familiar to this little ditty of a blockbuster called
The Fugitive.
Except of course, that Andrew Davis directed both of these movies, and was apparently happy to take liberal chunks out of that movie to make this one. It mostly works, in the sense that
Chain Reaction
has good scenes with plenty of tension and action, and the chase scenes are well done. Everything else just seems like a tired rehash of stuff you've seen before. There's only so many ways this kind of story can be told, and unless the guys behind the camera take a ballsy approach like in
No Country For Old Men
, a movie like this can't help but feel derivative. I'd say the only real highlight of the movie is Morgan Freeman, who makes any scene feel a lot more important than it really is by virtue of his badass voice.
Brian Cox arguing with God.
The best way one could describe
Chain Reaction
is by saying that it's a lot like eating a bag of Doritos. It's lightly filling and pretty enjoyable even though you know they're bad for you. After you're done, you're left wondering why the hell you just ate them and trying to figure out how to get that damn Nacho Cheese residue off your fingers.
Chain Reaction
tries really hard to be
The Fugitive
and to make a Harrison Ford out of Keanu. It fails on both counts, especially in the later. For god's sake, a beach ball has more charisma than Keanu in this flick. As a way to kill off a few boring hours though, you could do a whole lot worse. After all, you could be watching
Burlesque
...
TL;DR - Keanu discovers fusion. Keanu never smiles. Keanu runs from things. - 5/10