Bruce Willis has been a pretty dependable guy when it comes to action movies. Sure, he's done his share of weak movies like
The Kid
and that craptacular
Hudson Hawk
, but one look at his resume shows he's been faithful to the shooting/punching/stabbing school of film. After all, the guy coined "Yippy-kay-yay motherf*cker!" as his catchphrase. Anyways, the
Red
trailer looked promising enough: a good cast, decent action scenes, and some funny lines. I regretted not catching it while it was in theaters, so on to the DVD it was.
Bald Bruce Willis is best Bruce Willis.
Frank Moses (Bruce Willis) was once the CIA's top spy, and a legend in the intelligence community. But times change and people get old, seeing as how now Frank is retired old man, living off his pension alone. The only excitement in his life comes from flirting over the phone with Sarah (Mary-Louise Parker) who works at the pensions office. Sarah lives a pretty boring life herself, since it seems she can't get a decent date to save her life and also lives alone. Frank's life gets exciting all of a sudden as a bunch of goons toting assault rifles (god bless the NRA) shoot the hell out of his house. Frank doesn't take any shit though, and breaks a few necks and shoots the rest of the team. He realizes that because of his phone calls with Sarah, whoever is trying to kill him will probably try and hurt her as well. Off to Kansas City he goes, and laughs follow as he breaks into her house to convince her to come with him.
Yeah, Malkovich is wearing a plastic bag. No one knows why.
Frank and Sarah go off to round up Frank's old spy crew, which consists of Joe (Morgan Freeman), Marvin (an awesomely deranged John Malkovich) and Victoria (Helen Mirren), who are probably in danger themselves. They soon realize that a job from the past is coming back to haunt them, and some powerful people want them dead. In addition, they have to deal with another CIA assassin, some asshole named Cooper (Karl Urban) who's been ordered to kill Frank. The story then obviously gets more complicated as the KGB gets involved, the US government, and god knows who else gets their hands dirty. It's all a good excuse to see Helen Mirren shoot dudes in the head with a rifle or John Malkovich blow up people in half with grenades.
Is it weird that picture is actually kind of hot?


Red
is fun. It's a lot of fun actually. Seeing the trailer a few months back it was clear to me that you'd have to be a pretty cold-hearted bastard to not laugh at the sight of a wonderfully deranged John Malkovich toting an enormous revolver in one hand and a stuffed pig in the other. Or seeing Morgan Freeman dressed up as an African dictator.
Red
is at its best when bullets are flying around and the wisecracking is at full notch. The story however, is needlessly confusing at times, and the forced backstory/twist on one of the main characters (I won't spoil... that's not how I roll) is hokey and drags the movie down around the half way mark. It's a shame, because Malkovich and Mary-Louise Parker nail their parts and Willis is back on his usual good form.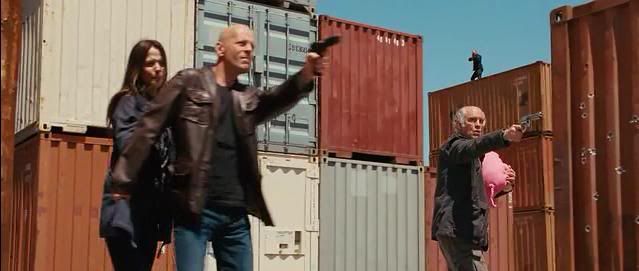 John Malkovich with a stuffed pink pig. Pretty tame stuff by his standards...
To be completely honest,
Red
wasn't as great as I was expecting it to be, which is a damn shame since it has a good ensemble cast and it's fair share of cool sequences (the cop car shootout and CIA headquarters raid are stand outs). It just didn't quite hit the spot like it should have. Maybe I'm too jaded from having seen so many terrible movies lately that I've become some sort of Greg Kinnear-like asshole. I've no problem admitting though:
Red
is a fresh, funny attempt to pump some life into the action-comedy genre which has given the movie world some absolute shitfests in recent years. Beggars can't be choosers, now can they?
TL;DR - Eternally bald Bruce Willis and his retiree posse bust plenty of caps, but leave you wanting for more - 7/10