If you have seen the trailer for
Machete
, and you still haven't made up your mind to go watch this film, you ought to check carefully to see if you lost your balls somewhere. Seriously, this movie fits the man movie description perfectly. Allow me to list the things that are right and proper in this film:
Danny Trejo is an ex-con, and he was in Heat, one of the best guy movies of all time.
The main character drives a motorcycle armed with two Miniguns and snarls a lot
Cheech Marin with shotguns
Lindsay Lohan dressed up as a nun shooting a machine gun
Steven Seagal plays a Mexican drug kingpin complete with thick accent. READ THAT AGAIN.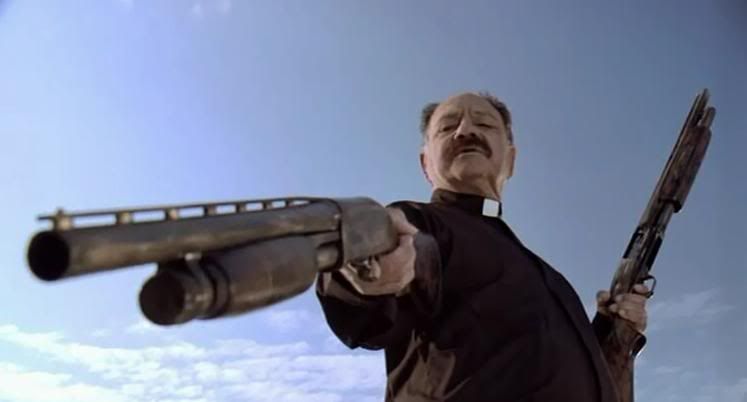 Best Supporting Actor 2010 - Cheech Marin as the Mexican bandit priest
Shit just got real, son.
You should watch this movie. Go watch it in theaters if you still can. You won't be disappointed. If you can stand the constant MeXiCoOO StrONggGG!!!!!! barrage and shit about immigration doesn't bother you, it'll be a good time. Or you could wait for it on Blu-ray and watch it drunk, in which case you'd enjoy it over 9000 times more.