Dave Mann (Dennis Weaver) is just an average guy. He's a businessman, has a wife and kids, and drives a shiny red Plymouth Valiant. As he makes his way to work and back home through some mostly deserted California roads, he comes across a rusty, piece of crap on wheels big rig driving way below the speed limit and putting out a bunch of smoke. Dave fancies himself a hotshot and guns it, overtaking the truck and pissing off the driver. This being California, and California having the worst drivers in the whole of the United States, eventually leads to an hour long chase to the death between Dave and his new truck driver friend.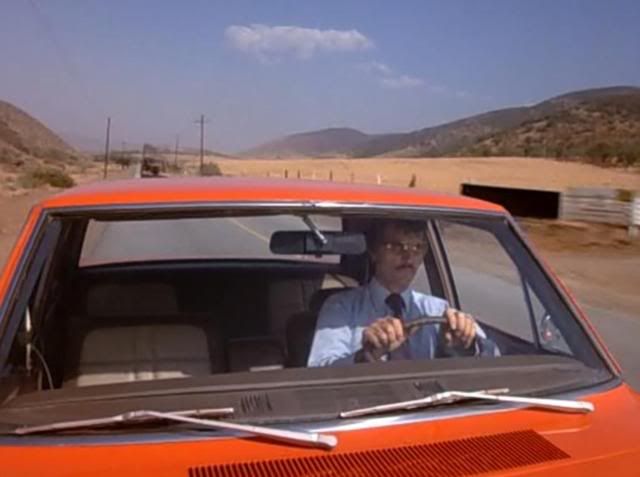 Average guy. Average car. Big freaking problem.
Never gonna give you up, never gonna let you down.
Duel
is a decently crafted thriller - fast paced and well scripted. The flow of the movie keeps the action going from the first encounter between Dave and his 18-wheeled tormentor from hell until the satisfying climax. So much of the movie resting on Dennis Weaver's performance, it's good to see that the veteran actor is up to the task. He's convincing as the everyday joe caught up in a shitty situation and trying to make the best of it. It's great to see his attempts to come to reason with the truck driver and his reaction when he realizes the guy just won't give up until his face is flattened by his heavy duty radials.
Don't mind me. I'm just trying to kill you and your whole family.
Duel
is a bit dated with its lame 1970s synth score, but the basic thrill of the plot and the relentless chase between Dave and that bastard driving the truck remains fresh. It's an exciting movie that works despite its limited scope and is worth a watch. It's definitely not a classic, but it is better than a lot of the straight to video crap that overflows from Redbox and video stores. Give it a watch.
TL;DR - a killer truck chases a guy up and down California and crashes into a lot of stuff - 7/10