Unbreakable
was something of a rarity for me. I had never seen this movie before reviewing it tonight. The reason for the 10 year delay in watching
Unbreakable
is M. Night Shyamalan's latest series of terrible, eye-gouging-inducing movies. I couldn't bring myself to watch more crap movies with a gimmick twist ending, but a friend recommended this one, so I couldn't say no. Thankfully, this flick is one of his best (not that many to choose from, I know) and it was an interesting movie with a few decent, well-done twists. The fact that it's got Samuel L. Jackson already made it a million times better than the average movie. Sam Jackson could be in a laundry detergent commercial and that shit would be the best laundry detergent commercial you'd ever see.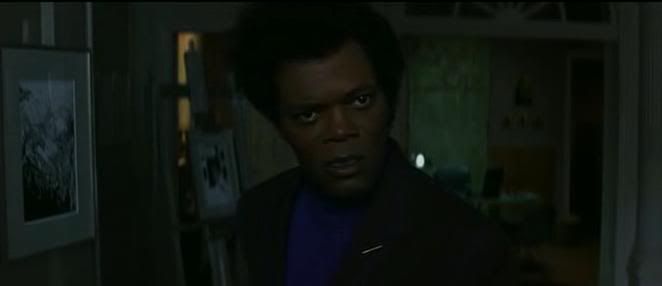 Samuel L. Jackson's hair... on a good day.
Unbreakable
begins with a black woman giving birth in a department store. A doctor comes to assist her since her baby won't stop screaming, obviously in pain. The doctor is astonished to find that the baby has suffered several fractures, much to everyone's surprise and horror. Flash forward a few years, and we see a young kid with his arm in a sling, refusing to go outside and play for fear of getting hurt. His mom gives him a comic book in order to get him out in the fresh air, on the condition that he cross the street to get it. Another jump in time, and it's revealed that the boy, Elijah Price (Samuel L. Jackson) has grown up into owning a fancy comic book art store and seems to hobble around. He explains that since childhood, he's been called "Mr. Glass" for the ease with which his bones are broken.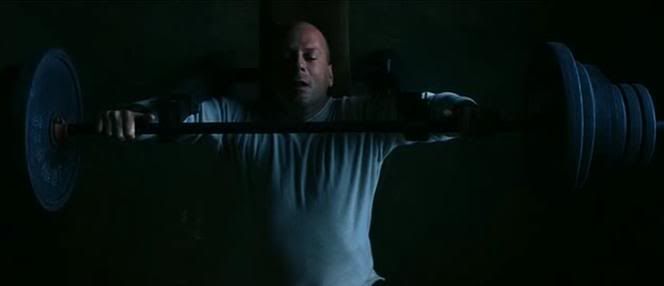 "And in the evening, I relax by lifting weights in excess of 300 pounds with no spotter."
The film then focuses on security guard David Dunn (Bruce Willis), who is traveling by train and is involved in a massive accident when the trail is derailed. Everyone aboard the train is killed, except for David, who miraculously escapes without a single bruise. Elijah notices the news and gets in contact with David, asking him if he ever remembers being sick or injured. A confused David, who has pretty messed up relationship with his estranged wife, can't remember a single time he was hurt. While visiting Elijah's store with his son, David is told by Elijah that his survival in the train wasn't an accident, and implies that he might have superhuman abilities as told in comic books. David obviously has a hard time believing creep with funky hair and purple overcoat, but his son starts to think it's no coincidence. Over time, David also suspects that something is fishy about the whole situation, especially after he's able to bench press something like 500 pounds without breaking a sweat.
This is why you should spank your children.
The rest of the movie then covers Elijah's creeper attempts to get closer to David's family and David's realization that he might in fact be a superhero.
Unbreakable
is a pretty interesting story, and of course, being an M. Night Shyamalan movie, you know it's going to have some sort of kooky
tweests
and turns. The acting is mostly good, with Bruce Willis having a pretty subdued performance as the troubled family man, and Sam Jackson doing his usual good job with whatever the script wants from him. My main problem with this movie, and in fact, every Shyamalan movie, is the fact that everyone seems to whisper. WHISPERING all the time. It gets annoying. It doesn't add substance to the movie - it just gets tired after a while and irritated me to no end.
Overall, it's not a bad film by any stretch. It's got some memorable scenes, especially the parts in which David starts discovering his abilities, and it is surprisingly watchable despite the stupid whispered dialogue in some scenes and the moody lighting. Compared to the director's last craptastic movies,
Unbreakable
almost seems like his masterpiece. It's an above average thriller, with a good turn by Sam Jackson, and without giving any spoilers, I'll just say the ending was a bit of a letdown.
TL;DR - Bruce Willis might be a superhero but he doesn't know it and Samuel L. Jackson has funny hair
- 6/10