Back in that glorious decade of manly movie making that was the 1980s, it was pretty easy to make a movie about any idea that sounded epic enough in the head of studio execs.
The Final Countdown
is a perfect example of this. Some guy, as he was drinking his morning coffee, thought to himself: "wouldn't it be badass if an American aircraft carrier from today went back in time to blow up the Japanese in World War II?" And the answer was yes, it would be.. And on the sixth day, God made
The Final Countdown
.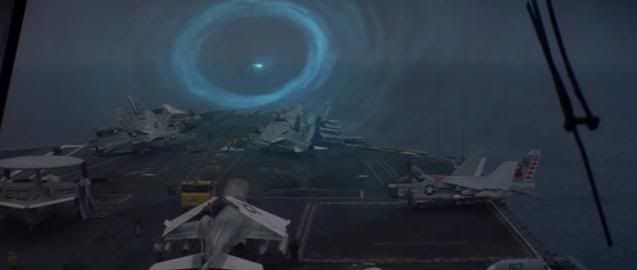 Yes, that freakish alternate universe wormhole looks perfectly safe.
The movie starts off with civilian analyst Warren Lasky (Martin Sheen rocking a Conan O'Brien haircut) being invited aboard the Navy's biggest aircraft carrier, the
USS Nimitz
, stationed near Pearl Harbor. There, he meets the skipper of the ship, Captain Yelland (Kirk Douglas... a.k.a. Spartacus), who shows him around the nuclear powered boat. They make their way to sea, when all of a sudden a strange storm with bluish lightning and strobe lights going off like a massive ecstasy fueled rave interrupts their cruise. Naturally, the
Nimitz
is sucked into this wormhole thing, only to find itself back in completely normal weather.
HEY JAPAN! WE TOP GUN NOW.
Confused and wondering just what the hell happened, the Captain launches a few fighter planes to check out the area, and sends another jet to scope out Pearl Harbor, thinking that World War III might have just started. While the crew wonders if the Russians just nuked Washington D.C., the fighters on patrol run into some WW2 Japanese planes. To make matters worse, the plane sent to Pearl Harbor sends back pictures of all the famous battleships from WW2 all lined up like the day when Pearl was attacked by Japan in 1941. The Captain, his officers and Lasky argue with themselves until they finally realize that the storm must have been a time portal that sent them back to the day before the Pearl Harbor sneak attack: December 6, 1941.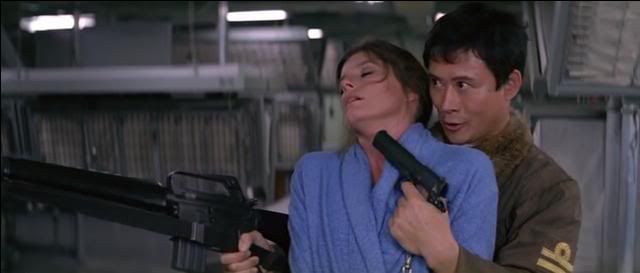 Note to time travelers: don't pick up kamikaze hitchhikers.
Along the way, the time-traveling Americans rescue some survivors from a yacht attacked by the evil Japanese fleet on its way to attack Pearl. One of the survivors is a hot secretary. So far, so good. The other survivor is a US Senator who was supposed to die before their attack, and now his survival is a threat to the space time continuum with potentially disastrous consequences. That one, not so good. Now, the Americans have a tough choice to make: should they use modern day technology like jet fighters and missiles to wipe out the Japanese fleet and prevent the war, or should they let history run its course? Some of the officers will argue both sides, even though no one seems to know what kind of shit they've gotten themselves into.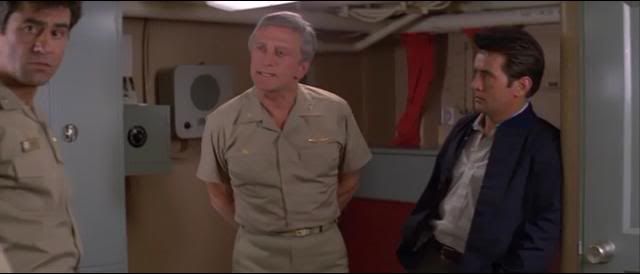 "What year are we in, Captain? "I dunno, LOL."
The Final Countdown
is basically a popcorn movie with a B-movie plot and some decent actors. Some of the best scenes are actually of the planes in action, shooting down Japanese propeller planes and scaring the hell out of the 1940s people. It's decent sci fi and works well at presenting an alternate universe in which history might be affected by what decisions are made. It can get a bit too talkative at times, but it's running length is just right for the story. It's fun entertainment, and a reminder that not every movie has to be Oscar bait and ultra serious. It's the 80s action/sci fi mix. Just let it embrace you.
TL;DR - Americans go back in time and wonder if they should kick Japan's ass and prevent WW2 - 6.5/10