Once upon a time there was an actor named John Travolta. Before he turned into a fat-faced Scientologist and dressed up as an equally fat woman and sang songs about racial harmony in
Hairspray
, he had a pretty decent rep as an action star. Thanks to a certain director by the name of John Woo, Travolta got a few good manly roles in flicks like
Broken Arrow
and
Face/Off
. This latter movie is in fact Woo's best American movie and to this reviewer, one of the top action films of the 90s.

Travolta in 1997 and Travolta in 2007. No words can suffice. No words.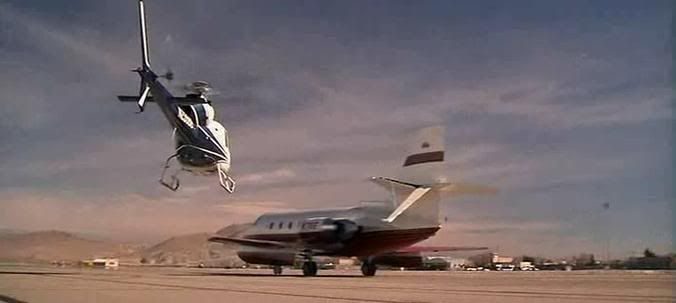 The highlight of the airport scene: Nic Cage telling the pilot to "fly bitch!"
If you're in a John Woo movie, you will eventually end up in a standoff. FACT.
The acting is pretty over the top from both actors, which aren't really known for their subtlety anyways. Being a John Woo, the action is pretty slick and there's a good number of exciting shootouts and chases. Woo has a well known fetish for slow motion which gets pretty annoying at times, but it works well in
Face/Off
and just goes to add to the cheese factor which is already pretty high if you hadn't noticed.
The best hair in Hollywood without a doubt.
Windtalkers
and
Hard Target
. Still, this flick is one of his best and it's no surprise that it is thanks to some batshit crazy performances out of his two leads.
TL;DR - Nicolas Cage shoots a kid, does drugs, gets his face removed and fights Danny Zuko - 8/10