I'll start out this review by just putting it out there that
Starship Troopers
is one of my favorite movies of all time. The first time I saw it I was just a kid and took it to be another dumb action movie with explosions, a crapload of gunfire, and people getting sliced in half by giant spider aliens. The great thing about this movie is that it can be several different things at once. It's a decent, campy action flick with some great moments and a few memorable scenes and characters, despite the bland acting and over the top cheese factor. It's also good at being pretty faithful to the satirical tone of Robert A. Heinlein's original novel as a commentary on the nature of war, fascism and its effect on society (LOL who cares amirite?). As sci-fi, it ain't too shabby, and while it won't be knocking
Blade Runner
off anybody's top ten lists, it is a lot better than the direct to video crap that you see crowding Blockbuster shelves.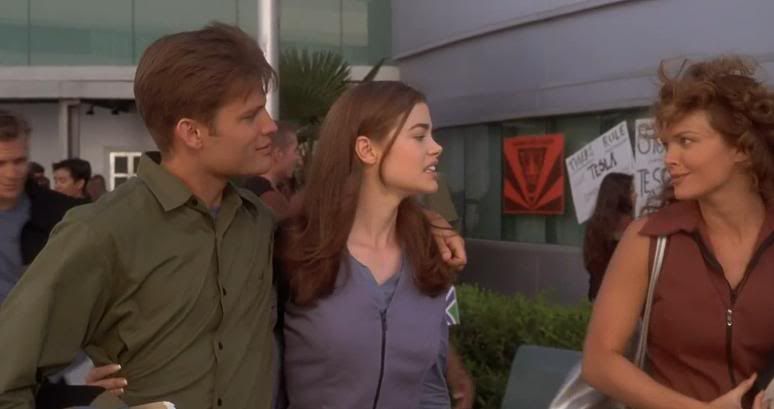 Rico and his wimmenz. I'll take the one on the right, thanks.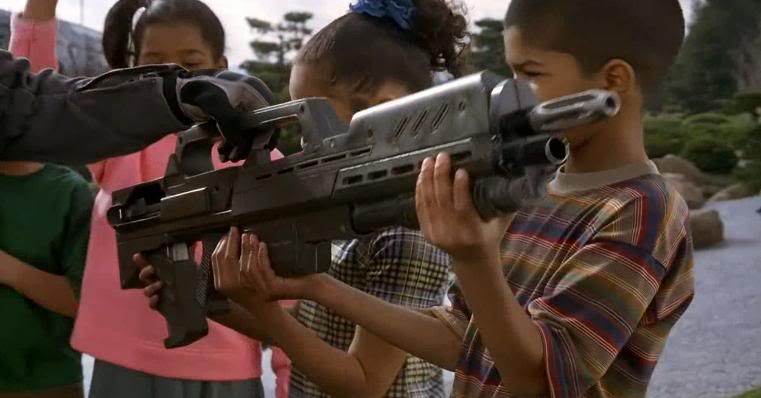 The sooner you get em killing things, the better. Verhoeven is the man.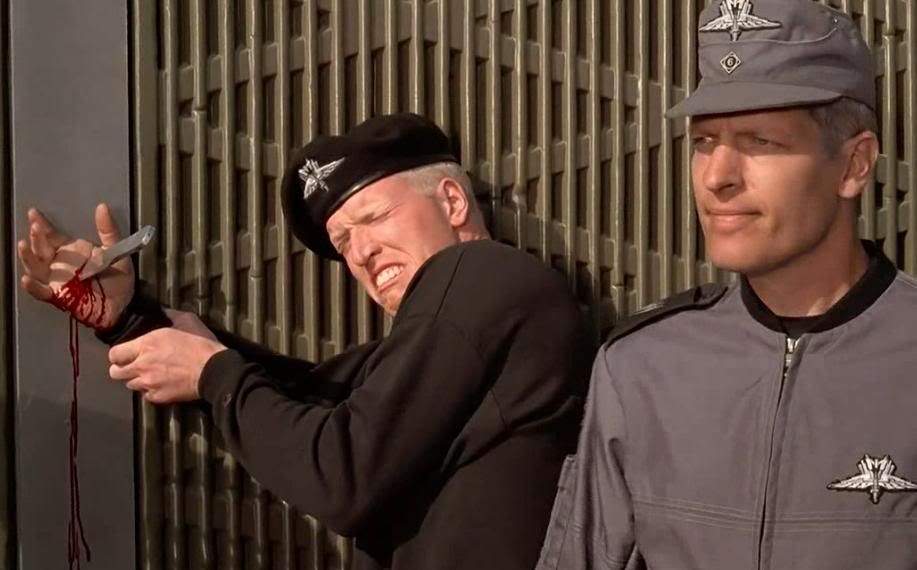 In the future, no one gives a damn if you have a knife stuck in your hand. DEAL WITH IT.
There's a few things that ticked me off about the flick. Obviously it is not a movie meant to be taken seriously, I understand that. But honestly, how believable is it that future humans can travel faster than light, and have space stations built around moons, but the Mobile Infantry fight like a bunch of idiots running around spraying bullets from the hip? Why do they need to send in soldiers at all instead of just nuking the place from orbit? My theory is that it was done so that the audience gets to enjoy seeing the always awesome Michael Ironside blasting away at the arachnids as he yells out one-liners.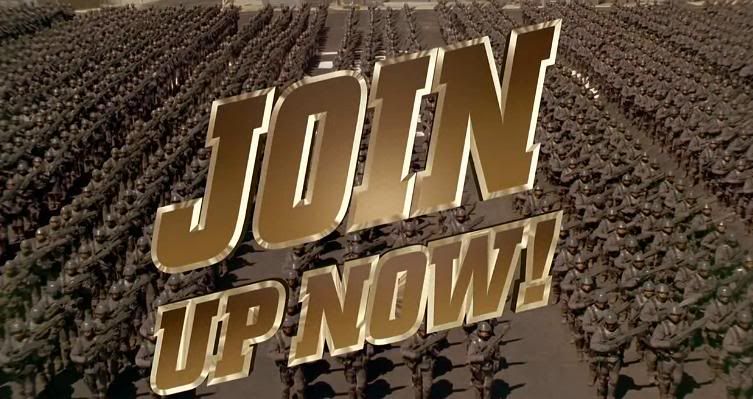 Service guarantees citizenship dawg!
Starship Troopers
. Could you expect anything less from the man who gave us great guy movie classics like
Total Recall
or
Robocop
? Some people I know take offense with this movie thinking it glorifies fascism and militarism, while some can appreciate the underlying satire, and some see it as just a shitty piece of film-making. I see it for what it is in terms of being a thoroughly enjoyable two hours of action, hilarity and gruesome fun. This is a B-movie that knows from the start that it's getting a pass and an A-movie budget, and makes no attempts to transcend that.
A word of warning: DO NOT WATCH THE SEQUELS. Never. Not even if you're drunk. For god's sake they are terrible. If you don't want to ruin the memory of the epicness that is this movie, do not watch those abominations. If you're tempted at all, cut your hand off. Trust.
tl;dr: in the future fascist humans fight giant spiders and it makes for great viewing - 8.5/10