When I was a kid, my family moved to Europe for a few years, and growing up as a twelve year old in the U.S. you get take awesome stuff for granted, like being able to plug in your Sega Genesis without it blowing up in your face or being able to speak English with everyone around. Living in a tiny apartment in Europe mostly sucked, since there was no room to run around playing cool games like cops and robbers and even worse, European TV sucks major ass. As in, it's godddamn awful. To make things even worse, one day while out jumpan, exploran and having adventures, I jumped off a 10-foot wall and sprained the hell out of my ankle. So I was stuck at home, with nothing to do but enjoy the misery that is European television.
Thankfully, this was the golden 90s, when you could count on Uncle Sam exporting the best of our low-budget cult films out to the needy Old Continent, and I was able to experience the greatness of
Tremors
for the first time. Sitting there with my swollen foot wrapped in a cast, I kicked back and started watching this curious movie about some hick town in the middle of nowhere that is attacked by giant, mutated earthworm aliens. As a 12 year old, there is nothing better than seeing rednecks being eaten by monsters and seeing an Oscar-worthy (I'm lying) performance by Kevin Bacon wearing a cowboy hat.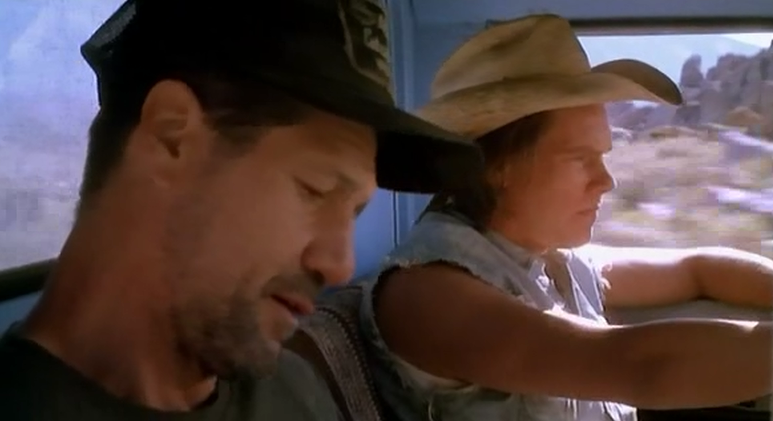 The first ingredient for any summer blockbuster: Kevin Bacon.
Tremors
introduces us to two down on their luck handymen, Valentine (Kevin Bacon) and Earl, played by the always badass Fred Ward, as they get ready to leave the craphole country town they call home in search of better jobs. On the way to work, they run into a college seismologist that Val gets the hots for. She tells them that there's been some weird seismic activity, and they head back into town, where we meet the rest of the small cast: a Mexican dude, an Asian dude, some lady with two annoying kids, and a crazy gun-addicted survivalist couple, Burt and Heather, and played by Michael Gross and Reba McEntire.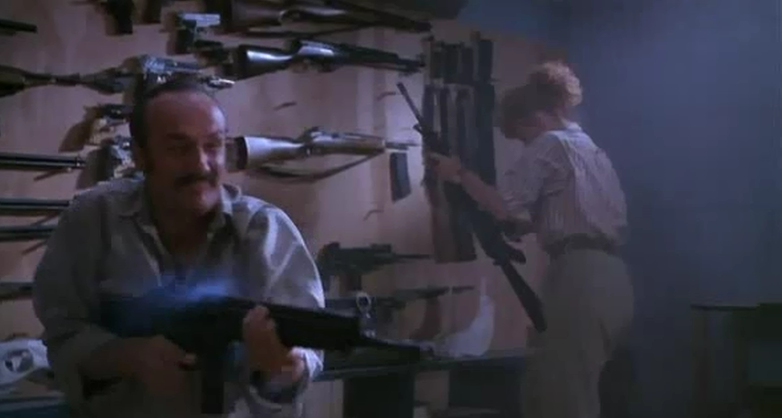 You can never have too many guns in a B-movie.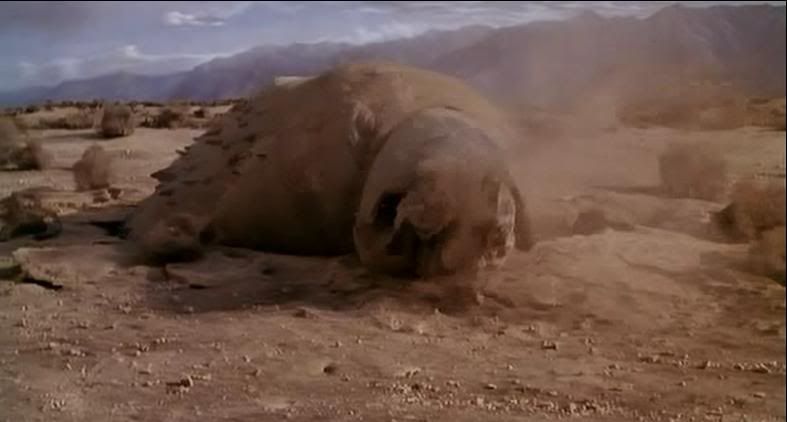 Giant earthworms. Giant earthworms everywhere.
Tremors
is a shitty B-movie of the best kind. It's fun as hell to watch - the acting is not that bad and the action scenes are pretty believable. About as believable as being attacked by giant alien worms can be, but anyways. Val and Earl have most of the best lines and their banter back and forth is bound to get a few chuckles. If you're looking for a serious, thoughtful movie, this ain't it - it's no
Memento
. Otherwise, it's 96 minutes of hilarious B-movie goodness.
TL;DR - killer worms eat people in a small town and Kevin Bacon wears a cool hat - 8/10